Nutrition and Dietetics Program (AS)
---
Associate in Science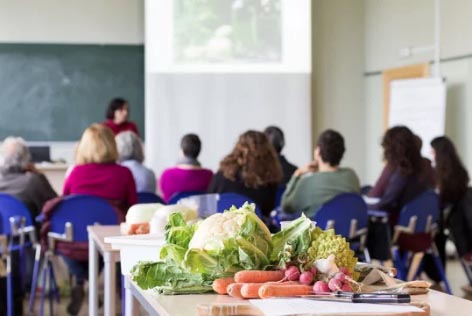 There is a growing demand for qualified personnel in the field of dietetics throughout the United States. The Nutrition and Dietetics Technician, Registered (NDTR) works under the supervision of a registered dietitian in health care, food service management, and community nutrition programs. NDTRs also function as active members of the nutrition team by assessing, planning, implementing, and evaluating the nutritional care of individuals, or by supervising food service operations. The Nutrition and Dietetics program is currently granted accreditation by the Accreditation Council for Education in Nutrition and Dietetics of the Academy of Nutrition and Dietetics (AND), 120 South Riverside Plaza, Suite 2190, Chicago, Illinois 60606-6995; (312) 899-0040 ext. 5400 or (800) 877-1600; www.eatright.org/acend.
Graduates of the program are encouraged to take the Commission on Dietetic Registration's registration examination to become a NDTR. Graduates are also eligible for membership in the Academy of Nutrition and Dietetics, and the Association of Nutrition & Foodservice Professionals. The program reflects the coordination of theory and practice that is required for students to acquire the knowledge, attitudes, and skills necessary for competent practice in dietetics. A minimum of 450 hours of supervised field experience provides opportunities to practice these skills. Students who wish to transfer to an approved four-year program in dietetics should consult the program coordinator regarding the transferability of courses.
---
Important Links
Nutrition and Dietetics Program Student Handbook
Nutrition and Dietetics Program Curriculum
---
Program Mission
The mission of the Nutrition and Dietetics program is to prepare graduates to become entry-level nutrition and dietetics technicians, registered with the competence and adaptability to compete successfully in diverse employment markets wherever food, nutrition and fitness are emphasized.
Program Goal #1
The program will prepare graduates to be competent entry-level nutrition and dietetics technicians, registered.
Objectives:
Graduate Performance
50% of program graduates take the CDR credentialing exam for nutrition and dietetics technicians within 12 months of program completion.
Graduate Performance
The program's one-year pass rate (graduates who pass the registration exam within one year of first attempt) on the CDR credentialing exam for nutrition and dietetics technicians is at least 70%.
Program Completion
At least 80% of full-time program students complete program/degree requirements within 3 years (150% of the program length).
Program Specific
80% of graduates who completed the graduate survey will agree or strongly agree that the Nutrition and Dietetics program provides adequate teaching and training to become a competent dietetics professional.
Program Goal #2
To prepare graduates to successfully enter the Nutrition and Dietetics workforce.
Objectives:
Of graduates who seek employment, 70% are employed in nutrition and dietetics or related fields within 12 months of graduation.
Employer Satisfaction
70% of employers will rate program graduates in their employ as having a satisfactory knowledge base for entry-level practice on surveys.
Graduate Satisfaction
80% of graduates are confident in their ability to communicate in writing, speaking, and presenting Nutrition and Dietetics information to a variety of individuals and groups.
Admissions Procedure
All students must first apply to and be accepted by the College. The Nutrition and Dietetics Program application form, available from the Admissions Office or dietetics program coordinator, must then be completed. Unless waived, all applicants must take placement tests in reading, English, and mathematics. Students in this program are responsible for expenses for uniforms, physical examinations, travel to field sites, parking, meals, CPR training, and drug testing. Specific information about these costs and coverage for accident and liability insurance is available from the Program Coordinator, Marcia Doran, and in the Nutrition & Dietetics Student Guide. A complete physical examination is required before supervised field experience begins. Financial aid information is available through the College Financial Aid office.
Graduation Requirements
In addition to the College's general requirements, this program requires a minimum grade of "C" (73 percent) in each and all science and program-specific courses. The student must also successfully complete all of the program competencies and must pass the National Restaurant Association Sanitation exam. The program coordinator reserves the right to recommend to the College the withdrawal of any student from the Nutrition and Dietetics program whose health, clinical performance, attendance, or conduct does not meet the program standards. Students are encouraged to complete the program requirements within 5 years. Upon successful completion of the Nutrition and Dietetics program, graduates will receive a verification statement.
---
Contact Us
Elaine Lickteig, MS, RDN
Program Coordinator
Phone: 203-285-2390
Email: ELickteig@gatewayct.edu