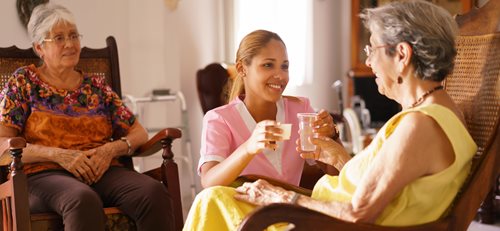 Program Overview
The field of Human Services is dynamic and challenging. The concept of human services stresses care for the whole individual and his or her relation to the environment. The sequential courses develop knowledge of personality patterns and behavior, roles and functions of community resources, and skills in each curriculum option. This program prepares students for entry into the job market and for transfer into baccalaureate degree programs.
Field experience is an integral part of the Human Services curriculum. It exposes students directly to clients in community service settings to apply the theories and skills learned in the classroom. In the various degree programs, students are eligible for field placement once they complete 24-35 credits toward the degree and are able to demonstrate a sufficient level of competence and skill.
Earn an Associate's Degree
Students may choose from several specific associate degree areas for their course of study depending on their career and educational goals:
CSCU Pathway Transfer Degree: Social Work Studies
Earn a Certificate
Specialized certificates are available as well, in the following areas:
Gerontology Certificate
Prior to each semester, Human Services students are expected to consult with the Program Coordinator Kim Shea at (203) 285-2116 or e-mail kshea@gwcc.commnet.edu before registering for courses.
CAREER POSSIBILITIES – What can I do with my education?
Our successful graduates can be found in many diverse career positions such as:
Case Worker
Youth Worker
Client Advocate
Elder Care Worker
Therapeutic Recreation Worker
Click here for a look at the Connecticut Department of Labor market information on Human Services employment, wages and industry growth.
Click here for a look at ONET's summary outlook on employment for Social and Human Service workers.