GCC Automotive Technology
Gateway's state-of-the-art Automotive Technology programs can lead to a rewarding career as an Automotive Service Technician. Graduates of the automotive programs are highly qualified technicians with excellent prospects for employment in the many dealerships and repair facilities throughout Connecticut and nationally. Automotive programs are taught at Gateway's Automotive Technology Center at 88 Basset Road in North Haven, CT.
Comprehensive Auto Repair & Service (CARS)

---

General Motors—Automotive Service Education Program (ASEP)

---
Gateway's Automotive Program is the only college program in Connecticut sponsored and supported by multiple automotive manufacturers. The General Motors-ASEP (Automotive Service Educational Program), along with the American Honda PACT (Professional Automotive Career Training) program, have received national certification from ASE, the national standard for automotive technician certification. Gateway also has a Comprehensive Automotive Repair and Service (CARS) program for a broad-based learning experience. Gateway has more than 60 late-model vehicles along with educational materials, tools, and equipment totaling more than $5 million.
The Automotive Program at Gateway has been nationally recognized by General Motors, ASEP, Honda PACT, AC Delco, ASE's National Automotive Technicians, Educational Foundation (NATEF), and NEASC.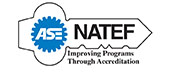 PROGRAM OUTCOMES
Upon successful completion of all program requirements, graduates should be able to:
Apply language arts and communications skills related to the occupation, including but not limited to reading, writing, and oral communication.
Perform mathematics related to the occupation, including but not limited to algebra, arithmetic, decimals, and graphs.
Use scientific methods and critical thinking to solve problems related to the occupation, including but not limited to resumé preparation, seeking employment, maintaining a safe and healthy workplace environment, demonstrating workplace ethics, and teamwork.
Apply knowledge of theory and safety to accomplish certain tasks related to the occupation.
Identify and use appropriate tools, testing, and measurement equipment to accomplish certain tasks related to the occupation.
Use current reference and training materials from accepted industry publications and standards to accomplish certain tasks related to the occupation.
Make general engine diagnoses of and repairs on, among other components, the engine's cylinder heads, valve train, block, lubrication, and cooling system.
Maintain, adjust, diagnose, and repair transmissions and transaxles.
Diagnose, service, adjust, align, and repair suspension and steering systems (including wheel and tire).
Perform general maintenance, adjustments, diagnoses, and repairs on disc and/or drum brake system hydraulics, power assists, and ABS (antilock brakes).
Perform general maintenance, adjustment diagnosis, and repair on electric/electronic systems, including but not limited to starting, charging, lighting, wiring, and accessories.
Perform general maintenance, adjustment, diagnosis, and repair on heating and air conditioning systems and components.
Perform general maintenance, diagnosis, adjustments, and repair on engine performance factors, including but not limited to computer controls, ignition, fuel exhaust, and emissions systems.
Apply knowledge of computer applications, including word processing, spreadsheets, graphs, and other software related to the occupation.
Gateway Benefits Open College Enrollment
(GM Programs Require Acceptance)
Easy Registration—Online or Mail-In
All credits earned in a degree program are transferable to any of the 4-year state universities (Southern, Central, Western, Eastern) and UCONN.
Upon graduation, guaranteed admission into a 4-year state university (with a minimum of 2.0 Cumulative Average; UCONN 3.0).
Low tuition and fees and a variety of payment options.
ASE-Certified Instructional staff.
Getting Started
Complete an admission application at GatewayCT.edu/Apply-Now.
Submit your documents to GCC Admissions:

Immunization Records
Proof of High School graduation
SAT and/or ACT Scores
Official College Transcripts (if applicable)
Contact the Automotive Program Facilitator, Ed Barlage, at (203) 285-2334 or ebarlage@gatewayct.edu and he will guide you through the rest of the process.