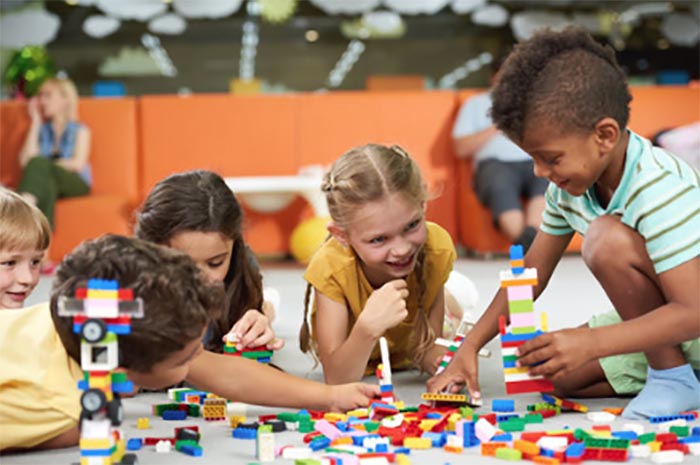 Early Childhood Education

The Associates in Science Early Childhood Education at Gateway Community College is accredited by the Commission on the Accreditation of Early Childhood Higher Education Programs of the National Association for the Education of Young Children. The current accreditation term runs from September 2016 through September 2023.
An Associate degree and three certificate options are available in the Early Childhood Education Program. The Early Childhood Education associate degree program is validated under the Connecticut Early Childhood Education Articulation Plan. Graduates of the associate degree program are eligible for admission as articulation students to any of the state's participating baccalaureate institutions which offer Early Childhood Education Teacher Certification programs; in the University of Connecticut's Human Development and Family Relations major; or in Charter Oak State College's child studies concentration. In addition, any graduate of Gateway Community College Early Childhood Education Program from 2008 on, is eligible to apply for the Early Childhood Teacher Credential (ECTC). The ECE program at GCC is an approved degree program for both Infant/Toddler and Preschool endorsements.
Note: Prior to each semester, Continuing students in degree or certificate programs are encouraged to consult with their ECE faculty advisor prior to registration.
Early Childhood Education Degrees & Certificates:
---
Early Childhood Education Associate Degree
The Early Childhood Education Associate in Science degree is comprised of general education requirements (24-25 credits), program requirements (25 credits) and a choice of either a Continued Studies Path (12 credits) or an Early Childhood Path (12 credits) for a total of 61-62 credits.
Early Childhood Education Career Path: This path is designed for students who plan to enter the job market or who are already employed in early education care and desire to improve their knowledge and competency.
Continued Studies Path: This path is designed for students who plan to transfer to a four year institution for further study. It also prepares students with the appropriate academics and practicum necessary for a career in Early Childhood. Since the amount of transfer credit varies from one institution to another, students are advised to consult the catalog from the four year colleges under consideration.
This program prepares students to be assistant teachers and teacher aides in the early education and care profession. The program also provides training for individuals already employed in a preschool situation who desire to improve their knowledge and competency in working with children.
Students who complete this program are qualified to assist teachers in all aspects of professional childcare and to guide and supervise individual and group activities. Graduates may also transfer into the Early Childhood Education program leading to the Associate in Science degree.
Child Development Associate Credential Certificate
The Child Development Associate Credential (CDA) is a national credentialing program that focuses on the skills of early care and education professionals; it is a performance-based assessment of childcare staff, home visitor, and family care providers. The Child Development Associate Credential is designed for individuals who wish to obtain a Child Development Associate (CDA) through the Council for Early Childhood Professional Recognition Credentialing Process.
Administartion and Leadership Certificate
Provides specialized college-level course work in administration, leadership, and management to parallel the competency and training requirements needed to obtain the Connecticut Director's Credential (CDC) which is issued through Charter Oak State College to applicants who have successfully met requirements necessary to obtain the credential at a specific level.
Gateway Community College offers the courses that will provide students with the required 120 clock hours of education for the credentialing process. Credits earned as part of this program can be applied to the Early Childhood Education Teacher Assistant certificate and degree programs.
---
NAEYC Accreditation Program Outcome Data
Click Here to view the Program Outcome Data.
---
Helpful Links
Registration Advisory for Fall 2022
Early Childhood Education Program Handbook
---
Contact Us
Carmelita Valencia-Daye
Program Coordinator
203-285-2172
cvalencia-daye@gatewayct.edu