Celebrate the 45th Anniversary of painter Tony Falcone: The "Accidental Artist"!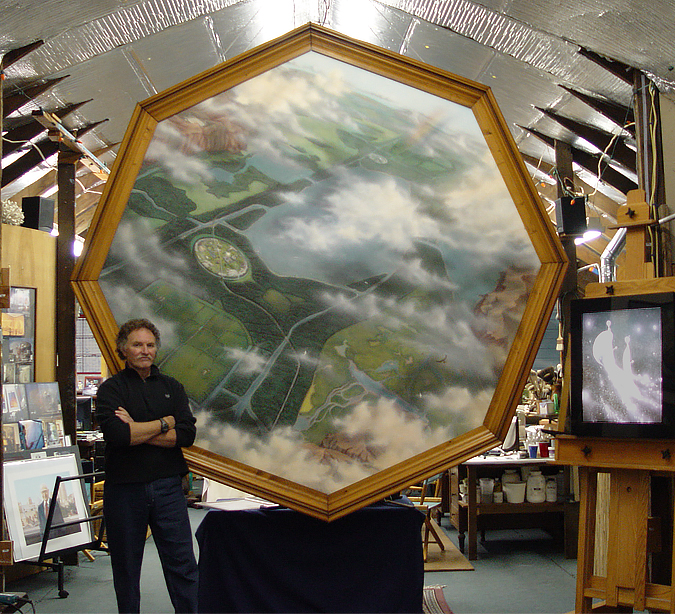 Tony Falcone has painted professionally since 1974. Born in New Haven, Tony served as a New Haven firefighter for seven years until he discovered his love of painting and established Falcone Art Studio in a vintage dairy barn located in Prospect, Connecticut. A self-taught artist, it is there as well as on location throughout the country that Tony creates his "imaginistic" murals, canvases, portraits and sculptures.
Today, Falcone Art Studio is known for its wide spectrum of fine artworks created primarily on a commissioned basis. Falcone's monumental murals, highly detailed canvases, and heirloom quality portraits enhance public spaces, corporate and education settings and private homes. Widely known for his skill in capturing familiar landscapes and cityscapes, the artist reproduces these nostalgic images as collectible fine art prints, posters, Giclees, etchings, greeting cards, paperweights and medallions.
The Artist's executive, heirloom and architectural portraits are held in the collections of: Albertus Magnus College; Yale School of Nursing; Yale School of Medicine; Hospital of Saint Raphael; Gateway Community College; New Alliance Bank; AIDS New Haven; Ronald McDonald House; Sickle Cell Community House; the Greater New Haven Chamber of Commerce; the U.S. Coast Guard Academy in New London; Superior and Probate Courts in New Haven and Hartford; the Saybrook Point Inn; International Aero Engines, Glastonbury; and the Sewall Foundation in Portland, Maine.
Other notable Falcone mural commissions include: a floor mural for the Yale University Peabody Museum of Natural History; a commemorative trompe l'oeil mural for the Alumni Center at the U.S. Coast Guard Academy; and murals at the Yale University Law School, the Floyd Little Field House at Hillhouse High School in New Haven, Albertus Magnus College, the Fusco Corporation, and downtown Old Saybrook.
Falcone is the recipient of the Honorary Doctorate of Humane Letters from AlbertusMagnus College in New Haven, CT. He is featured in "Artists Next Door: A Great City's Creative Spirit" published in New Haven, CT by Cheever Tyler. He is a member of the Portrait Society of America. http://www.falconeartstudio.com