NetPrice Calculator
Spread the cost of tuition and fees over the term by enrolling in a tuition payment plan using our online payment plan system.
Enroll in a tuition payment plan easily over the web from MyCommNet.
View a list of charges, credits, and financial aid eligible for the plan on your online budget worksheet.
Authorize your parent, spouse, and anyone else you choose to access your account, sign up for a plan, or make a payment on your behalf.
Receive notifications sent to your student email as your plan adjusts to changes in your schedule.
Final payment is due by the 45th day of the semester, which falls in March for Spring semesters and October for Fall semesters. Students are required to pay the $25 installment plan fee, as well as 20%-25% of their charges upon enrollment. Equal payments of the remaining balance will then be due each month, up through the 45th day of the semester. The sooner you enroll in a payment plan, the smaller your monthly payments will be.
If you have completed a FAFSA application and are eligible for aid but are waiting on your financial aid package to be processed, you are eligible to enroll in the Pending Financial Aid Deferred Payment plan. To enroll in this plan, you must email

your FAFSA confirmation email OR your Student Aid Report. You will only have to pay the $25 installment plan fee online and your deferred tuition due date will be on the 45th day of the semester, which is typically after financial aid will have been dispersed. You will then either owe nothing, or a smaller balance that aid has not covered. If for some reason you do not receive aid, all your charges will be due on the deferred due date.
Benefits of the IPLAN
FAST Enrolling in tuition payment plans is easy. Simply log into Self Service through myCommNet to enroll.
SECURE Pay online using a credit card knowing your information is secured using industry-leading security features.
CONVENIENT Need to know if your IPLAN has changed? Check your student email. Our payment plan system will notify you any time your installments increase or decrease. Want to make a payment during a study break at the library? No problem. Access your online plan through a web browser anywhere, any time. Need to give someone else access to your student account? It's a breeze. Now you can authorize someone else to enroll in the plan, receive payment reminder emails, or make payments on your behalf.
INEXPENSIVE Tuition payment plans are an inexpensive alternative to a student loan or paying by credit card. Enrolling in a plan costs just $25 per semester.
Financial Aid Not Enough?
If your authorized financial aid isn't enough to cover your entire balance, we have a plan for you too! You can sign up for an installment plan for the amount you need to pay out-of-pocket without any additional down-payment now. On this plan, the balance won't be due until after financial aid is disbursed, giving you more time to save. Please note: You will be responsible for any balance not covered by your award, should it be subsequently reduced or rescinded.
Enrollment Instructions
If you wish to enroll in a payment plan, here is a quick guide to get you started:
1. Log into myCommNet and click "Banner Self-Service"
2. Click: "Billing/Payment"

3. Click: "My Account/Payment Information" box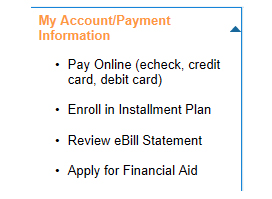 4. Click: "Student Account and Payment Center"

5. Click: "Student Account and Payment Center" button
​

6. Click: "Payment Plans" on top menu bar
​

Follow the prompts to calculate your installments, develop a payment schedule, and make your first payment with just a few easy clicks.

Payment Reminders
Students and/or their authorized payers will receive an email to remind them of payments due 7 days prior to the due date. Reminders to students will ONLY be sent to the student's college email account.
What happens to my account balance if I drop or withdraw?
You may still owe a balance on your IPLAN, even if you have reduced your course load or withdrawn. Therefore, students are strongly advised to contact the Bursar Office first to determine the impact, if any, your schedule change will have on your account balance.
College Service, Student Activity, and Clinical Fees are NONREFUNDABLE. No credit will be applied to your account, regardless of when you drop—EXCEPT that you may request full credit for the clinical fees if you drop out of an allied health program entirely or are not enrolled in any credit course at the end of the add/drop period.
Workforce Development & Continuing Education and other non-credit instructional charges are subject to the following fund policies:
If you officially drop on the last business day before the first class meeting or prior, your account will be credited with 100% of these charges. Requests must be made by Friday for courses starting Saturday-Monday.
If you officially withdraw on the day of the first class meeting or later, NO CREDIT will be applied to your account.
All other fees not listed above, including Application and IPLAN enrollment fees, are NONREFUNDABLE. No credit for these charges will be applied to your account regardless of when you drop.
Important Notice Failure to adhere to the college's payment deadlines can subject your entire registration to cancellation. Prior to the start of the semester, drops for nonpayment are performed regularly by the college. Without exception, once your registration is cancelled you won't be able to re-register unless there is space available in the class. The college also reserves the right to place a hold on your account if it exhibits excessive drop for non-payment activity.
Financial Aid
IRS Data Retrieval Tool Video
Financial Aid Programs

Gateway Community College is committed to providing access to higher education by minimizing economic barriers. GCC participates in all state and federal financial aid programs.

The amount of assistance is based primarily on need, satisfactory academic progress, and availability of funds. To be eligible for Financial Aid, students must have a high school diploma or GED, be a US citizen or an eligible non-citizen and be enrolled in a degree or eligible certificate program. Financial aid is available for credit courses only; audit or non-credit courses are not covered by financial aid.

To Apply for Financial Aid

Students must complete the Free Application for Federal Student Aid (FAFSA) online at www.fafsa.gov. For Fall semester enrollment the FAFSA should be completed by May 1. The Financial Aid Office must receive the results of your FAFSA and Financial Aid and the GCC Admission application process must be complete before an award can be made.

Please Note: You are now expected to link your FAFSA directly to your IRS tax information. Students who fail to do this correctly and are selected for verification will need to bring IRS Tax transcripts. We will no longer accept copies of 1040 Tax returns.

Students who complete their FAFSA after TBD will not, in all probability, have an official financial aid award in place before classes begin on August 27, 2019 and must explore other means of payment (cash, check, credit card, payment plan) or risk having their registration cancelled.

Please Note

You do not have financial aid until you have received an official award notice via e-mail or letter.

Students who register for classes before receiving the official award letter must pay for their classes (cash, check, credit card, payment plan) or run the risk having their registration cancelled.

Students who want to register before their financial aid processing is complete must pay all fees on the day of registration thereby holding their classes until 4:45 pm, Wednesday, August 7, 2019.

Fees are non-refundable.

Financial aid awards are based on your enrollment status as of the 14th calendar day of the semester. Any courses added after that time will not be covered by financial aid but billed directly to the student.

Students who officially withdraw during the first two weeks of classes will have all financial aid cancelled. The Business Office will bill these students for 50% of their tuition, all fees and book charges if any.

Tax Credit Programs

The American Opportunity Tax Credit provides for qualified education expenses. Eligible students can receive up to $2,500 tax credit for the first four years of post-secondary education.

The Lifetime Learning Credit helps students pay tuition for upgrading job skills or career training. The Lifetime tax credit is 20% of qualified tuition and fee expenses, up to $2,000 per year, with some income-based limitations.

For more information on these programs, consult your tax advisor or the IRS website at www.irs.gov


Important Financial Aid Information

Students who receive partial financial aid must pay or make arrangements for the balance owed by 4:45 pm, TBD.Failure to follow the above guidelines will result in cancellation of your registration.

The following information affects your enrollment status.

Students must reapply for financial aid each academic year. Deadline dates are May 1 for classes beginning in September and November 1 for classes beginning in January.

The only formal announcement of financial aid is an official award letter or e-mail sent by the Financial Aid Office. Information on MyCommnet is not official unless you have received an official e-mail award notification or have been sent an award letter.

Please Note

Applicants are responsible for completing all Federal eligibility and file completion requirements as early as possible.

Under NO circumstances will financial aid be available for the fall semester unless ALL requirements are satisfied by TBD.